Booster Club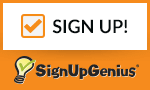 All Booster Club meetings are the 2nd Monday of each month at 6 p.m. in the Lunchroom.
We are looking to expand our Booster Club roles this year. So if you're looking for an easy way to obtain your work assessment hours, receive (1) Booster Club Pass, and help the athletic programs out all at the same time, please contact Matt Jones, Lee Sharpe or Corey Griggs. These roles will not be overwhelming and are a great way to make an impact. Please see the positions listed below.
•  JV & PW Football Coordinator – Carey Lindsey
•  V Football Coordinator – Kara Faulkner 
•  Volleyball Coordinator – Meagan Shelton
•  V Basketball Coordinator – Rusty Hughes
•  JV Basketball Coordinator – 
•  Softball Coordinator – 
•  Baseball Coordinator – Sandra Miller
•  Inventory control (Football & Baseball/Softball) -
•  V Football game setup – Sandra Chandler
•  Softball game setup – 
•  Baseball game setup – Misty Adams 
•  Sign-Up-Genius Coordinator – Jennifer Pugh
---

Stay Connected
Follow the Booster Club on Facebook and YouTube to stay up-to-date on events and volunteer opportunities:
---

Sports Program Ad Sales
Our sports program is published annually at the beginning of each school year.  All students who participate in fall/winter sports are required to sell $75 in ads for the sports program. Any family that sells $500 or more in ads will receive a Family Membership to the Booster Club and receive passes to get into regular season home games, 2 decal stickers, and a program at no charge. 


Field Signs
Field Signs are a great way to advertise your business or just support our school's athletic program. These signs are seen by thousands of local people each year and are moved around our campus during the year to ensure maximum visibility at each sporting event. The field signs are available for purchase and renewal. Please refer to the current year Booster Club sponsorship form linked at the bottom of the page for full pricing information.
Grandparent Parking 
"Grandparent Parking" has been a tradition at Hooper Academy for many years.  It allows our Hooper Academy grandparents access to the best parking spots on campus!  Not to mention the great vantage point to watch their grandchild represent Hooper Academy on the gridiron and a free pass into each home game. So bring your lawn chairs or just back your pick-up into your own personalized parking space. These spots are limited, fill up fast and are on a first-come, first-served basis.
Bass Tournament
All families having a Spring sport athlete (Soccer, Baseball or Softball) are required to sell sponsorships for the Hooper Academy Bass Tournament.  A cumulative total of $75 is required per spring sport family.
---
If you would like to support the Hooper Colts athletic program with the purchase of a sports program ad or a field sign, please contact the Booster Club at hooperacademy.bc@gmail.com or complete the sponsorship form below.