Why Hooper?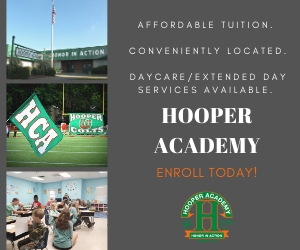 Why should you choose Hooper Academy?
While many schools offer a variety of academic programs, Hooper Academy considers all aspects of your child's development. This balance is achieved only when considering a holistic view of education. At Hooper, we understand this concept and strive to achieve that balance every day. Fully accredited with Southern Association of Colleges and Schools (SACS) and the Alabama Independent School Association (AISA), Hooper Academy's K-12 program maintains a high standard of academic excellence.
Affordable Tuition
Our tuition rates are some of the lowest in the River Region. Click here for more information about tuition and fees.
Convenient Location
Hooper Academy is located minutes off of I-65 at Exit 164 in Hope Hull. Click here for directions.
Small School Atmosphere
Our small classroom sizes ensure a low student-to-teacher ratio as we value individual development. Hooper's 13:1 student to teacher ratio in is 13:1 in the lower school and 12:1 in the upper school. Click here for more fun facts.
Dual Enrollment/College Prep
With college prep, honors, and dual enrollment courses, Hooper Academy offers a curriculum designed to prepare students for success in college and in life beyond. A strong core curriculum of English, mathematics, history, science, and Spanish are supplemented with a wide variety of electives. Click here for more about our upper school.
Daycare/Extended Day Services Available On-Site
Hooper Academy's Early Learning Center provides licensed daycare services for children ages 6 weeks to K4, Monday through Friday from 6:45 a.m. until 5:45 p.m. The Early Learning Center also serves as the hub of our Camp Hooper summer camp and before/after school care programs. 
Our K5-12 program, coupled with our ELC, enables families to access a continuous program of nurturing and positive educational experiences on a single school campus. By offering daycare/extended day services for our youngest students and college credit through dual enrollment for our high school students, Hooper provides a unique "cradle-to-college" educational experience friendly to working/commuting families. Click here for more about the Early Learning Center.
Interested in Applying?
For more information about our admissions process, click here. You can contact us at lnorman@hooperacademy to schedule a tour.
Colts Have Pride!
Consider entrusting the development of your child with Hooper Academy, and let the quality educational experience begin.
Headmaster Dr. Liz Norman and Board President Jason Langley appeared on WSFA's Central Alabama Business Break to share why Hooper Academy is a great choice for in-school instruction. Hear what they had to say: https://youtu.be/eiQ5C6GYwdY